We know how freshly-cooked and delicious foods can be very expensive. At Nara Thai, we offer both traditional Thai and Thai-inspired food at reasonable price. Our Head Chef also sources local ingredients to specifically create dishes with a modern look and full of flavours. You can either enjoy these dishes in a vibrant setting at our restaurant, or do takeaway to suit your busy lifestyle. Whatever you choose, you will be served with our friendly staff .  
Come in to explore a range of our fresh, healthy and delicious dishes, and satisfy your Thai food craving at Nara Thai.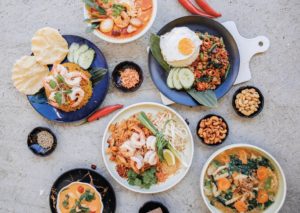 Jessie Lin
Nice place to gather with friends, very pleasant atmosphere and friendly staff. The crispy port with broccoli really good to eat with rice and papaya salad were really refresh. Not to mention the stir fried salt and pepper prawn with chilli is one of my favorite. BTW the thai milk tea was really nice as well. Definitely will come back. Rusayla Nekolieben
One of the best Thai restaurant out side Thailand I've ever had !! Their top 6 menu are definitely all best !! I personally enjoyed Tomyum soup with noodle a lot! If you can't eat so spicy food you can ask waitress to reduce spice level as it's very authentic Thai taste(contains chili ):-) Wish I live in Hobart ! Thanks for great foods !
A Great Addition to Moonah!! Food is fresh and very tasty. Service is also friendly. This reminds me of my trips to Chiang Mai and Bangkok. Anyway, it would be nice to know the spicy level for each dish even though the dishes I had (Massaman Beef and Tom Yum) are just right for me.
I Absolutely adore this Thai restaurant, the food is so fresh and yummy 😋, I have been to every single Thai restaurant around Hobart ,this one is definitely the best and it's not pricy ! THIS IS REAL THAI FOOD 🥘👍👍👍🤩🤩🤩
I'm glad this place finally opened...Seriously one of the best Thai food in Hobart ...! Fresh, tasty without MSG, and good price! Elyza Crespan
Could not be happier, service great, food great and an overall good experience 😊